C. White Marine Inc.
About Us
We take pride in being a family-owned, small business.
Our experience and knowledge give us the ability to offer creative solutions for all your needs, saving you money and downtime. Personalized service is what we believe in. It is what we have built our reputation on and it is what you deserve.
C. White Marine, Inc. is an established, well-respected and reputable member of the New England area's marine construction, pile driving, commercial diving and bridge construction & bridge rehabilitation market, servicing Massachusetts, Maine, New Hampshire, and Rhode Island by putting customer satisfaction first on the list of every project. Since 1994, C. White Marine has a proven track record of completing projects on time and on budget while adhering to exceptionally high standards of job safety and craftsmanship. We have tackled some of the most difficult and complex jobs in marine construction.
C. White Marine has been a proud repeat recipient of the STEP safety award from Associated Builders and Contractors (ABC), in recognition of their exemplary safety record.
ABC's STEP (Safety Training and Evaluation Process) program recognizes select member companies that meet the very highest qualifications for safety preparedness and performance. Candidate evaluations are based on incidence rates (accidents) and experience modification rate (EMR) for the application year.
Since 2006, C. White Marine, Inc. has participated in the STEP program and has continually used the program benchmarks to improve and enhance their safety program.
ISNETWORLD Member for 14 years
Avetta Member for 3 years
We are proud to share that our employees hold the
following licenses and certifications
MA Hoisting License/NCCER Certification
ADCI COMMERCIAL DIVING Certification
MASTER OF TOWING NEAR COASTAL WATERS
CERITIFIED 3G/4G WELDING Certification
NFPA HOT WORK CERTIFICATION
TRANSPORTATION WORKERS IDENTIFICATION CREDENTIAL (TWIC)
C. White Marine is an EEO Employer and Drug Screening Employer
"Our goal is zero accidents and the STEP program gives us the foundation in which to reach that goal. ABC and the George W. Gould Construction Institute are invaluable resources and give us the tools to help build on our continued success."
– C. White Marine, Inc. owner Catherine White.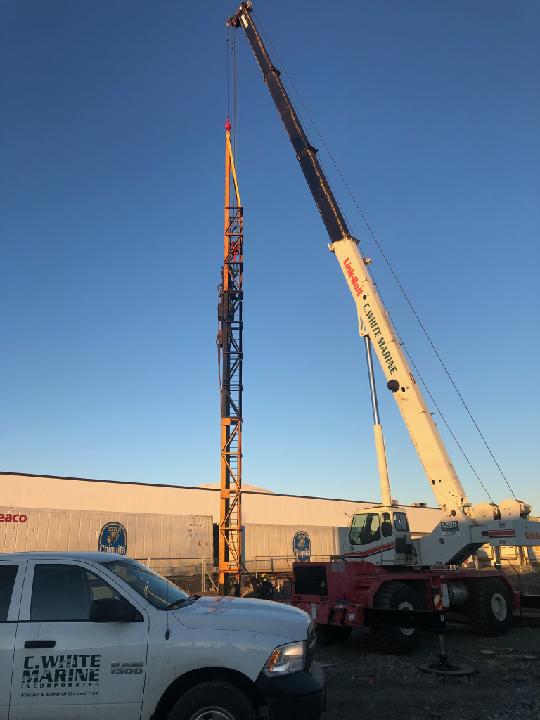 Providing Excellence In Service Since 1994
Our History
Larry and Cathy White began C. White Marine in 1994 with a 40 Ton crane, a 35' x115' steel barge–and a wealth of experience. Larry worked his way up the ladder at another marine construction and pile driving company, from field laborer, hoisting engineer, foreman, field supervisor to president over a 15-year period. Cathy brought her customer service, marketing and administrative skills to the mix and they hit the ground running. Today, the company has several marine construction plants, dive barge unit and land-based pile driving equipment with crews that service the New England area meeting the needs of their clients with the responsive service they have built their reputation on. Continuing the legacy their son, Dan working as a laborer and assisted with logistics and estimating before joining the company full-time after college graduation and growing into the role of Vice President. Clients include both private entities such as marinas and yacht clubs as well as commercial marine terminals in the energy industry. Public municipalities and authorities are also serviced by the company including but not limited to the Commonwealth of Massachusetts Department of Conservation, Massachusetts Department of Transportation, Mass Bay Transit Authority, the U.S. Navy and the U.S. Coast Guard. C. White Marine also performs subcontract pile driving services for some of the leading general contractors in the area.
C. White Marine regularly supports the community, participating in Women Build-Habitat for Humanity-North Shore in Danvers, MA
and the United States Marine Corps Toys for Tots program.